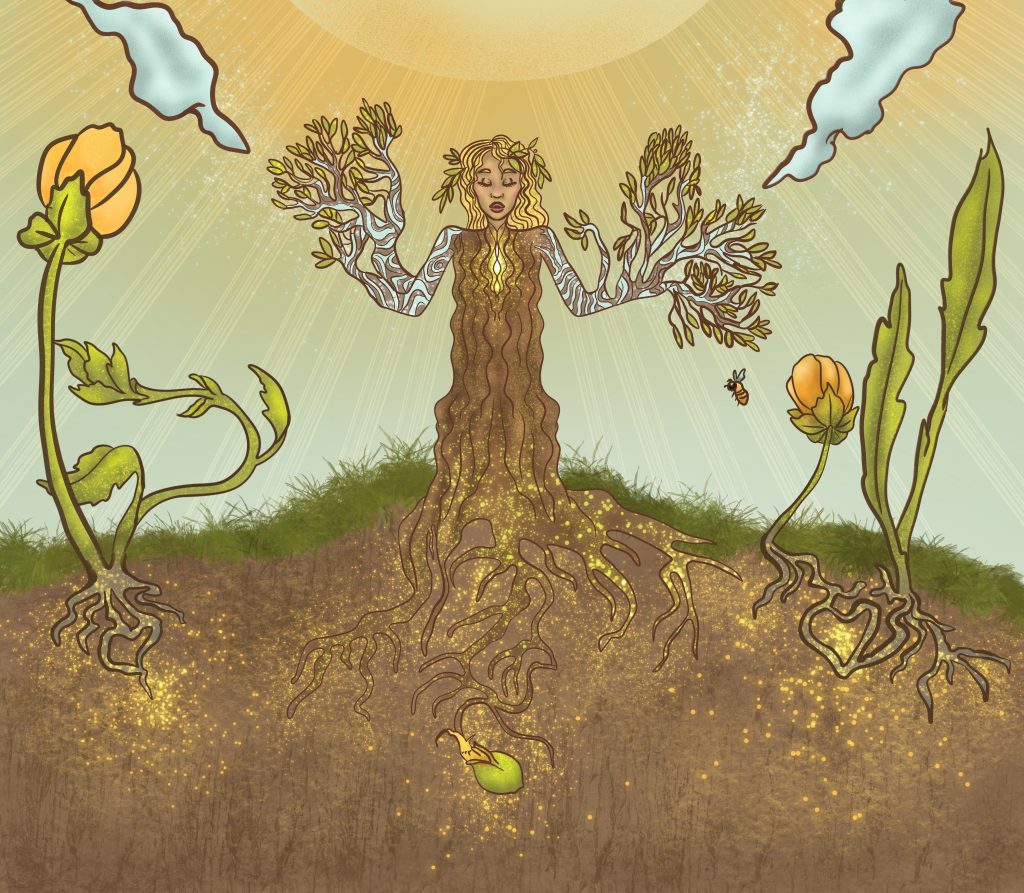 Art by Aine Design
We are extremely happy to be able to socialise with all of you soon at ICPR 2022. Yet we are fully aware of multiple ongoing crises right now. Out of care and concern for our living environment and other species, we decided to reduce ICPR's ecological footprint per person compared to earlier conferences.
We have opted for vegetarian, mostly organic meals, have created a digital conference booklet instead of a printed one, and have dispatched with the tradition of physical swag bags.
We also reduced our oversees marketing, introduced livestream-tickets (including scholarship tickets) and have now started a fundraiser to compensate for the conference's carbon footprint and to give back to the cultures whose knowledge informs psychedelic science today.
---
Green fundraiser
To compensate for the travel emissions involved in getting speakers and attendees to Haarlem, we have launched a fundraiser through One Tree Planted. OPEN will 'plant' the first few thousand trees, and we hope to triple or quadruple that number with your help. Go to our fundraiser on One Tree Planted to contribute.
One Tree Planted is a non-profit organization focused on global reforestation. Your donation is tax-deductible.
Reciprocity fundraiser
We acknowledge and honor the responsible relationships that indigenous peoples have forged with psychedelic plants over the past centuries. We recognize that the Global North benefits from their knowledge, and we believe that it is critical to support the organizations working to conserve the biocultural communities that have taught – and continue to teach – the rest of the world about how entheogenic plants can benefit individuals and societies.
Our partners at the Chacruna Institute recently launched the Indigenous Reciprocity Initiative, which we applaud and want to support with a second ICPR fundraiser. Please consider donating if you feel that you have benefited from psychedelics in any way.

The Indigenous Reciprocity Initiative (IRI) is a community-directed biocultural conservation program connecting directly with grassroots Indigenous organizations with the aim of 'giving back' to the cultural regions that support indigenous plant use and knowledge. IRI created a pool of funds that supports Indigenous initiatives with a proven track record, addressing a broad range of efforts from food security and environmental health, to economic and educational support.
IRI strives to foster a relationship of reciprocity between the rapidly growing industry generated by the mainstreaming of psychedelics in the Global North, and the Indigenous peoples who have historically received little benefit from the commercialization of their cultural and biological heritage.
No swag bags, but…
We're not handing out notepads and swag bags anymore, so we kindly request that all attendees bring their own writing gear. But, of course, we will not let our guests go home entirely empty-handed either! There will be some surprises that do not cause unnecessary garbage.
ㅤ