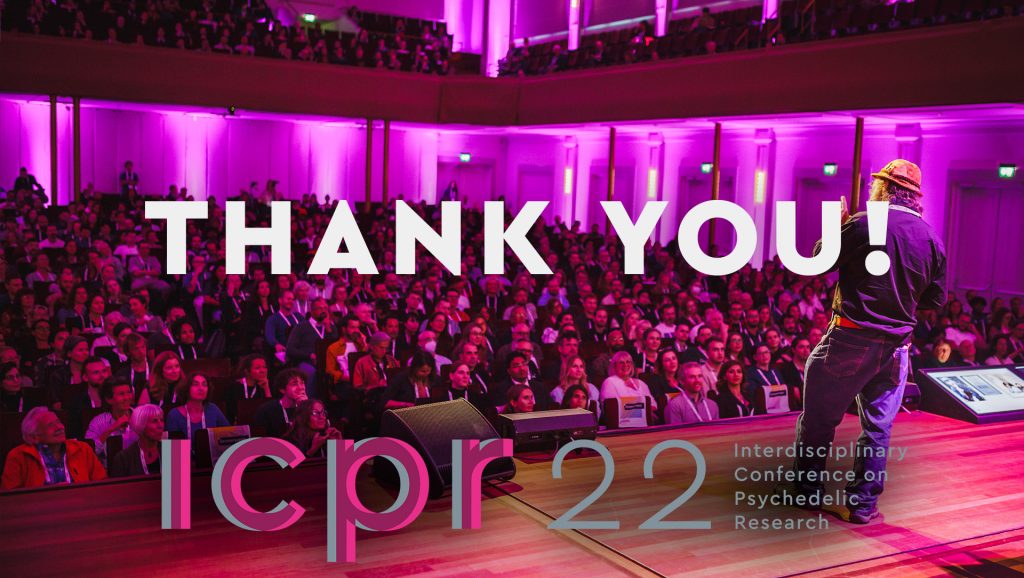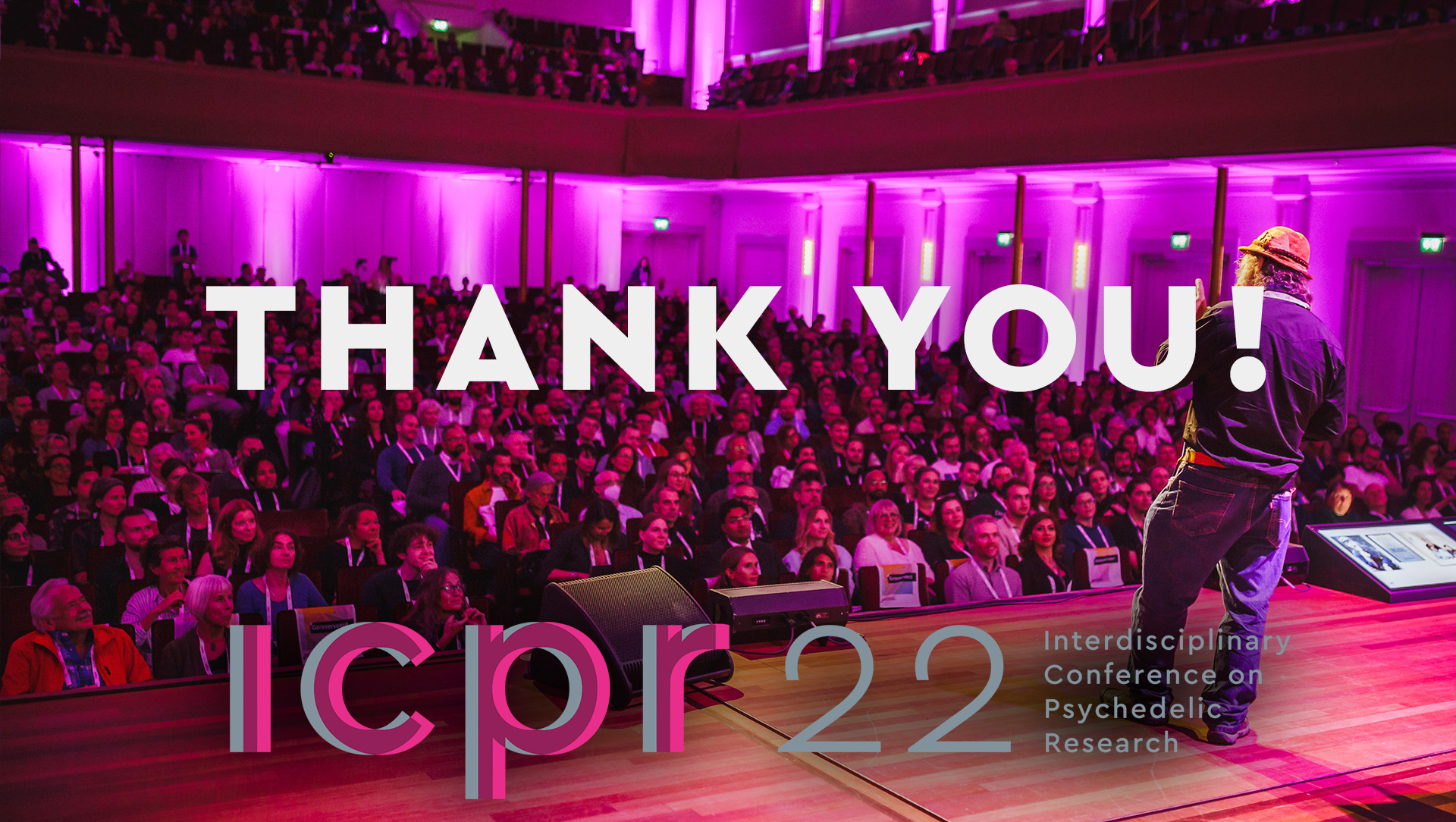 From touching talks to insightful perspectives, and profound new ways of thinking about reality to practical tips about doing therapy or research: ICPR 2022 has been an inspiring, thought-provoking, educational, and uplifting experience. Thanks to you all so much from the bottom of our hearts, whether you were a visitor, volunteer, speaker, presenter, digital visitor, or fan from afar: you made this conference what it was.
A common theme at ICPR 2020 was figuring out what is next for psychedelics and psychedelic therapy, now that their efficacy has been proven, their acceptance is broadening, and a professional ecosystem is developing. The presentations at ICPR were able to satisfy some questions with answers but mostly helped us all to develop new and better questions about the challenges we are dealing with in our own fields.
"We can set the standard for how this is done in the future," as MAPS director Rick Doblin asserted at the closing panel of ICPR 2022. "And I think the most important thing right now is the training of therapists," Doblin said, constantly pushing the envelope on where this field might go. "Let people watch videos for example. But also make sure there is a clear and defined way for therapists themselves to take MDMA legally as part of their training."
At the same time, Paul Stamets stated, we should not forget to look for knowledge outside of the rigor of scientific research and prohibitionist laws – and appreciate more that some of these substances, experiences, and knowledge have been with humanity for a very long time: "We shouldn't ignore that millions of people have been using these substances for thousands of years," Paul Stamets stated.
Participants Panel
There was special attention for the participants of psychedelic trials, who were featured on a panel to bring a much-needed perspective to ICPR that had been missing at earlier conferences. It was the first time -as far as we know- that a panel of trial participants was featured at a psychedelic conference.
Participants Ian Roullier and Leonie Schneider stressed the need for extensive and thorough support before and after the psychedelic experience: "set and setting, for as participants, apply before, during and after treatment. It's not just during the medical intervention itself."
So psychedelics give us the opportunity to radically rethink human healing, was an often-heard sentiment at ICPR: "It's time we treat people like plants", Pedram Dara, ICPR Manager and panel member of the participants' trial asserted. He alluded to the care we take to change the environment of a plant when it's not doing well – with light, water and nutrients – instead of trying to 'fix' the plant itself.
Leonie Schneider underlined the need for an infrastructure and ecosystem. "Tweak the environment so that it supports them. We are not dots on a graph, we are not lab rats, we are human beings. So how do we create peer circles and support groups – a community infrastructure – going forward?"
FUTURE OF PSYCHEDELIC Therapy
Mendel Kaelen, music researcher and the CEO of Wavepaths, underlined the importance of experience as a healing agent: "We learn to walk by walking, we learn to talk by talking and we need to learn to feel safe by feeling safe" – Mendel Kaelen, CEO of Wavepaths.
Janis Phelps shared her qualms about the psychedelic experience being boxed-in too much: "I'm afraid the experience will be overmedicalized," she said, "that we lose that sense of awe and gratitude that Roland Griffiths talked about. I don't want to have done all this work just to the benefit of wealthy people."
Future research was also announced and highlighted. Beckley Foundation founder and director Amanda Feilding announced a first proof-of-concept study with Basel university to study microdosing LSD in mild Alzheimer's disease. Rick Doblin posed difficult questions around PTSD in children and proposals to explore MDMA-assisted therapy for 11-year olds.
Charles Raison examined the agent of change in a psychedelic experience: are psychedelics more like psychotherapy or more like standard antidepressants 'on steroids'? To test this, an upcoming study by Raison will administer psilocybin to sleeping participants. Will they experience a meaningful change without having conscious thoughts?
Torsten Passie reflected on his experience in psychedelic therapy: "We are not treating people. We are moderating self-healing. This is why we should guide rather than interfere with the process", explained Torsten Passie.
Some findings
There were bigger and smaller findings about how psychedelics compare to more traditional antidepressants. Emotional blunting is a common side effect reported with antidepressants, Matthew Wall explained. And his research found that psilocybin affects emotional responsiveness less than escitalopram – as measured by the emotional faces task. In simpler terms: it found psilocybin offered a greater antidepressant effect with less downsides.
Frederike Holze presented the results of a recent study at University Hospital Basel with Peter Gasser, that a single dose of LSD correlated with a rapid, long-lasting reduction in anxiety symptoms. And that mystical experiences are correlated with longer-lasting effects.
Jennifer Schmidt presented a study that found that Methylone showed the strongest possible antidepressant effect in the forced-swim-test in rats. The study also found that methylone does not have a negative drug interaction with SSRIs, like MDMA does.
David Erritzoe found that participants who were weaned off antidepressants before taking psilocybin experienced a smaller change in depression reduction than those who were fully naive to antidepressants. David Erritzoe explained that the expectancy effect of escitalopram predicts greater efficacy than the same expectancy effect with psilocybin.
ICPR 2024!
We've hardly had time to catch our breath after the afterparty (and the after-after-party…) but we didn't want to leave you with the sincere wish we can do this all again soon! The great success of ICPR 2022 means that the OPEN Foundation has a runway to organise and expand the psychedelic scientific ecosystem for the upcoming years. And it is with that confidence and love that we want to invite you to the next ICPR – now planned for 2024. Because there is much suffering in the world, the questions that psychedelics force us to ask are urgent, and there is much need to separate fact from fiction, and hype from hope, in the prospering psychedelic ecosystem.
This overview was but a snippet of the hundreds of hours we could spend on its content. But rest assured that more videos from ICPR2022 will appear over the coming weeks. Watch your email and follow us on social media to stay up to date. The community platform is where these videos will be released.
Thanks again to all the volunteers helping out, and especially the photography, video, livestream, content and social media teams! Special mention to @martin_spijker for his amazing portraits and photos.
(Now let's all take a well-deserved nap.)
ㅤ