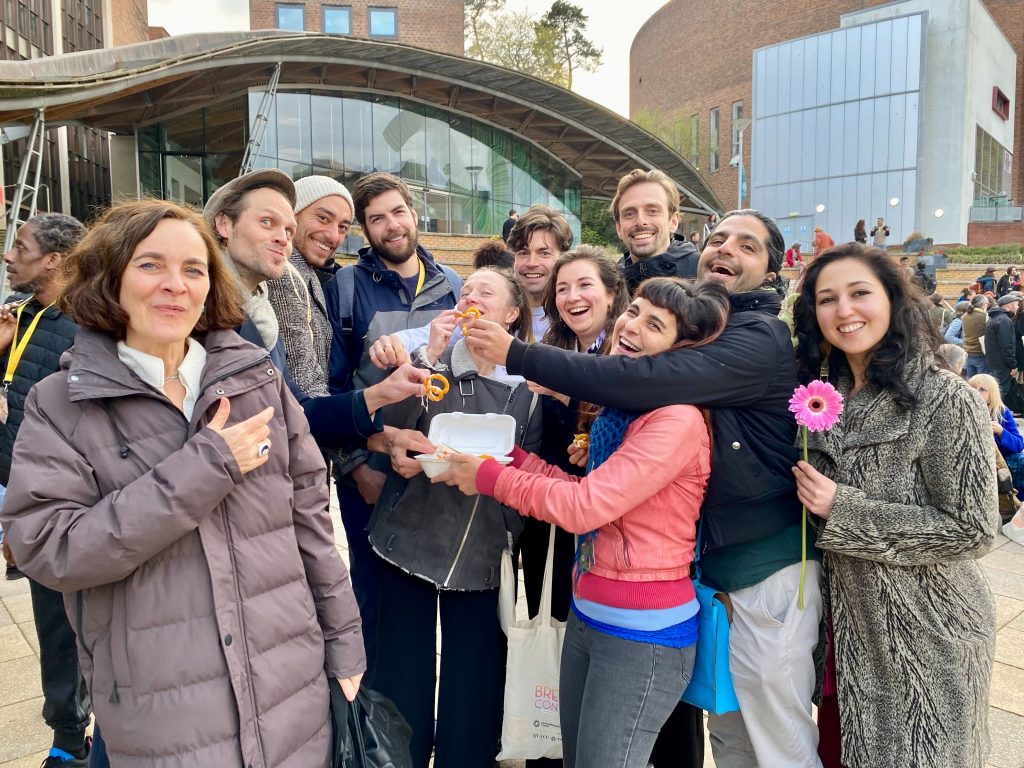 From April 20th to 22nd, 2023, Breaking Convention convened in Exeter, United Kingdom. A mix of psychonauts, researchers, and psychedelic curious gathered to discuss the latest research, showcase psychedelic art, and exchange views in this blossoming field.
Breaking Convention (BC) was kicked off by its four directors, Nikki Wyrd, Aimee Tollan, Hattie Wells, and Alexander Beiner. Each spoke to their journey as participants and organisers of the non-profit gathering. Beiner highlighted the importance of guarding how the mainstreaming of psychedelics is shaped. No doubt existed among 1100 participants (Breakeros) that in fact, psychedelics are going mainstream.
Wells pointed out that BC is a multi-disciplinary conference, one where perspectives from many angles merge together. She warned that Western clinical medicine shouldn't forget the roots of psychedelic knowledge that run deep in indigenous knowledge. Wyrd compares the gathering to a mycelial network, one for which the fruiting bodies are nourished and spores will be spread out all over the world once the conference ends.
The science; presentations with a variety of perspectives
The quality of evidence presented at BC was notably diverse, reflecting the wide-ranging interests and expertise of the attendees. While some speakers reported on rigorous clinical trials, others opted to share personal experiences or case studies, providing a holistic view of the current state of psychedelic research. This mix of approaches allowed for a comprehensive and nuanced exploration of the field while highlighting the need for more standardized research methods.
The conference featured an impressive array of research topics, demonstrating the potential for psychedelics to address various mental health and addiction issues. From the use of ibogaine in treating addiction to the exploration of how psychedelics might be applied in the treatment of obsessive-compulsive disorder (OCD), the scope of inquiry was vast and inspiring. Although it is impossible to recap every talk individually, the striking diversity that sets this event apart from other conferences in the field is worth noting.
As psychedelics continue to gain mainstream attention, it was clear that the speakers at BC were aware of the hype surrounding these substances. Throughout the conference, a sense of caution and responsibility resonated among participants, emphasising the importance of conducting rigorous research and carefully considering the implications of psychedelic use in various contexts. The conference fostered a thoughtful and grounded atmosphere by acknowledging this burgeoning field's potential pitfalls and challenges.
The culture; a psychedelic farmers market, VR headsets, and art installations
The cultural aspect of BC was a vibrant and engaging reflection of the diversity within the psychedelic community. Attendees were treated to a unique "psychedelic farmers market," where an array of stands offered mushroom-infused chocolates, eco-conscious decals, and a wealth of psychedelic literature. Additionally, harm-reduction societies and various NGOs showcased their work, providing valuable resources and fostering connections among conference-goers. This bustling marketplace served as a hub of creativity and exchange, demonstrating the wide range of interests and pursuits within the psychedelic sphere.
Technology also played a role in the cultural experience at BC, with several virtual reality (VR) setups available for attendees to explore. These immersive installations featured psychedelic-inspired games, offering participants a brief escape from the conference environment and transporting them into otherworldly realms. The VR experiences provided a unique opportunity to delve into the intersection of technology and altered states of consciousness, illustrating the potential for innovative applications in the future of psychedelics.
Art installations were another highlight of the conference, with various engaging and interactive pieces on display throughout the three-day event. These immersive exhibits offered attendees the chance to experience the creative expressions of the psychedelic community, sparking conversation and inspiring reflection.
In addition to the rich program of scientific talks, on Friday and Saturday there was an opportunity to attend workshops. These ranged widely in focus, from techniques in psychedelic-assisted therapy and the integration of music and technology in these practices, to various workshops centred around ritual, nature and healing, and embodiment. What stood out was the open and unreserved attitude of the workshop attendees, leading to a freedom of self-expression in the groups and opening the door for an immersive experience.
On Friday night, in a candle-lit live cinema performance, Vincent Moon showcased and soundmixed footage of musical gatherings from various cultures and religions from around the world, in a celebration of the common humanity in ritual, meaning, and tribe.
The vibes; undoubtedly psychedelic with a sprinkle of sobriety
BC was infused with an unmistakable psychedelic atmosphere, yet it also maintained a strong sense of sobriety and realism. Presenters openly acknowledged the challenges and complexities associated with psychedelic research and application. Issues such as blinding in clinical trials, scaling up treatment options, the absence of support services, and the ongoing criminalization of users were brought to the forefront, demonstrating a commitment to addressing these concerns head-on and fostering an environment of honest discussion.
A common thread among many presenters was their personal experience with the transformative potential of psychedelics. While they shared stories of these substances' positive impact on their lives, they were also candid about the risks and potential downsides associated with their use. This balanced approach allowed for a more comprehensive understanding of the psychedelic landscape, highlighting its promise and pitfalls.
Despite the serious nature of many talks, Breaking Convention 2023 also provided ample opportunities for connection and camaraderie. Spontaneous hugs, joyful reunions, and stimulating conversations were commonplace at the conference and informal gatherings in local pubs and on the dancefloor. The event cultivated a sense of community and shared passion, showcasing the unique blend of dedication, enthusiasm, and open-heartedness that characterizes the psychedelic movement.