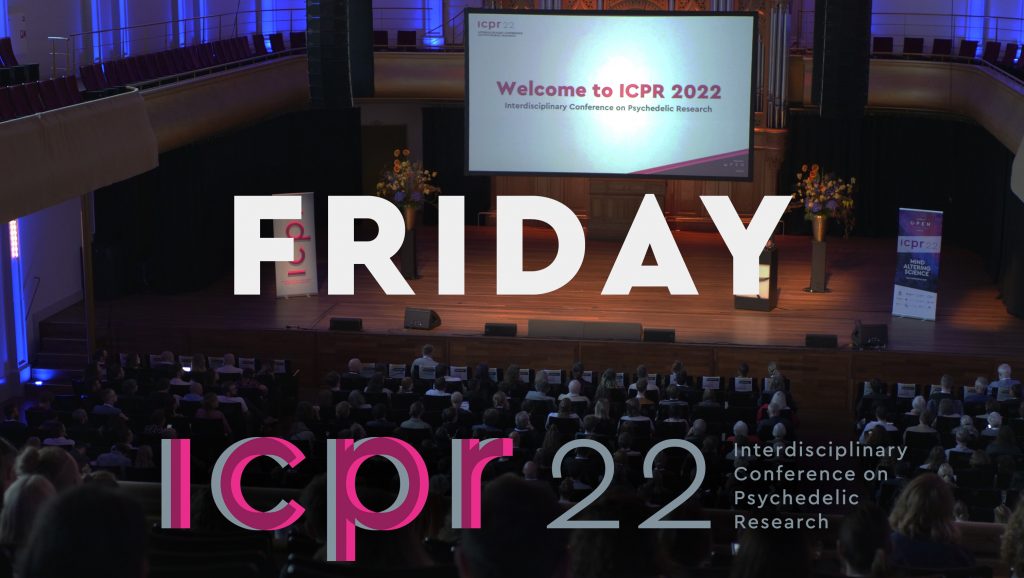 And we're off! After an amazing, warm and inspiring first day where we hugged old friends and greeted new faces, we're now on to our second day of ICPR! Hopefully everyone knows their way around the building (and to the different "toiletten" tucked in the building) a bit more.
Friday Highlights
Some highlights of Friday are LSD Research, the mainstreaming of psychedelics, the future of funding, and psychedelic neuroscience.
David Nutt and Amanda Feilding will dive into the neuroscience of psychedelics in the morning. And Bill Richards will give an update about his work around palliative care and psychedelics – some of the longest-running research into the possibility of psychedelics to relieve suffering of terminal patients. While Torsten Passie will teach lessons from the first wave of psychedelic research in the mid-20th century.
Brian Pace will try to break some stereotypes about the political leanings of the psychedelic ecosystem with his presentation on Right-wing psychedelia: red pills for sale. Ethics will be discussed by Carolina Seybert and Robert Schoevers.
Two concurrent panels will round up the day.
One panel will be about the mainstreaming and commercialisation of the psychedelic field and will include Rick Doblin, VICE-journalist Shayla Love, North Star project leader Julia Mande and professor in clinical pharmacology and long-time psychedelics researcher Matthias Liechti. The conversation will be hosted by journalist Thijs Roes.
The other panel is moderated by David Nutt and will discuss the future of funding and regulation in Europe. Panel members are Lionel Thelen, Gitte Moos Knudsen, Tadeusz Hawrot, and Florence Butlen-Ducuing.
At that same time, Mendel Kaelen, founder and CEO of Wavepaths, will give a talk on the role of music in psychedelic therapy based on his 10 years of research.
Having such a wide range of topics on one day again shows the value of having an interdisciplinary conference. So again, on this Friday, there is again so much to choose from.
Highlighted topic of the day: LSD
From its accidental discovery to its long-lasting effects, and now a renewed interest in the therapeutic potential of the substance in modern psychiatry: lysergic acid diethylamide (LSD) is unique in the world of psychedelics. On day 2 of ICPR, you will hear from Friederike Holze and Peter Gasser about the recently published results of one of the biggest trials with LSD in the treatment of anxiety with or without a life-threatening illness.
Amanda Feilding will present an important aspect of the LSD experience, talking about blood supply to the brain. Finally, there will be an intriguing talk by Mark Juhan regarding the "entities" encountered during LSD trips. Get ready to dive deep into the history, or mystery of the LSD experience!
Cognition and perception will be explored by Isabel Wiessner in her talk LSD and the stream of thought: increased discontinuity of mind, deep thoughts and abstract flow.
Full programme
Find Friday's full programme here.
ㅤ