VOLUNTEER BEFORE OR DURING THE CONFERENCE
ICPR has been running since 2010 and we're gearing up for its 5th edition from September 22nd to 24th, 2022 in Amsterdam. We're looking for a team of enthusiastic volunteers to help us make this year's conference the best one yet. Join us either on-site or leading up to the conference and be an integral part of Europe's leading psychedelic research conference and community. Learn more about ICPR 2022 here.
We are looking for volunteers to help us both before and during the conference. If you are interested in helping out in the months leading up to the conference, scroll down to read more about pre-conference volunteering.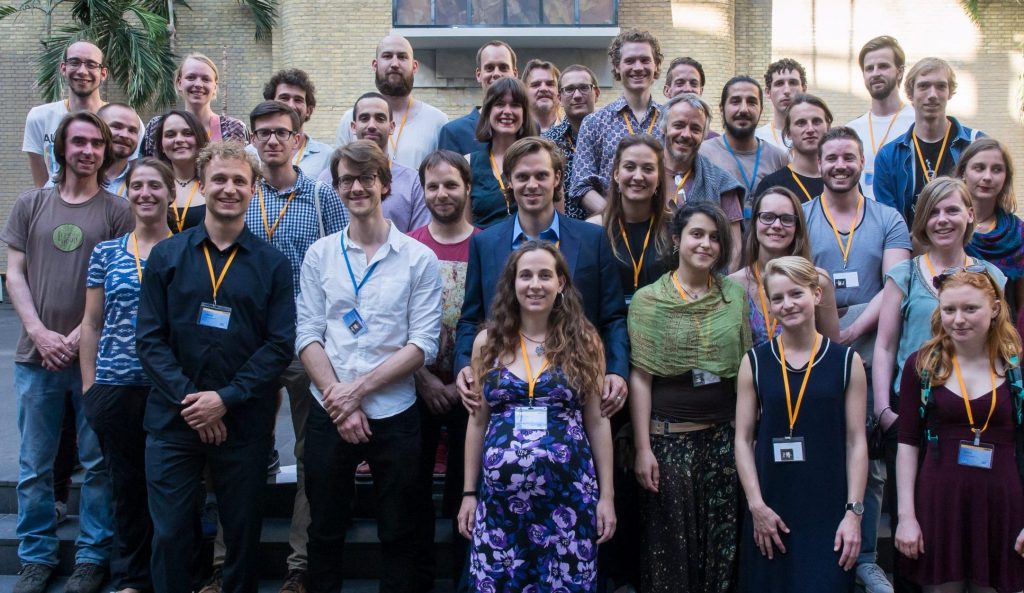 On-site volunteering
We are currently putting together a team of on-site volunteers with varied expertise and backgrounds. We require each volunteer to dedicate 18 hours of volunteer help during the course of the conference.
There are lots of ways in which you can help to make this year's conference a success. Here are some of the teams you could be a part of:
Registration Team
Session Moderation Team
Photography and Videography Team
Social Media Team
Jack of All Trades Team
And More…
On-site volunteering DETAILS
Benefits:
A lot of hard work will be required from you to make this conference a success, and we'd like say thank you by providing the following perks:
General Access to ICPR 2022 (As Duties Allow)
Volunteer T-Shirt
Conference Tote Bag
Access to Pre and Post Conference Volunteer Gatherings
Opportunity to Make a Difference in the Future of Psychedelic Research and Therapies
Requirements:
All conference Volunteers are required to:
Be at least 18 years of age
Work a minimum of 18 hours over the course of of the conference
Be available for at least 2 days (Preference goes to those who are available for all 4 days)
Complete volunteer on-boarding and attend volunteer orientation sessions
Potentially assist in pre-event preparation activities
Volunteer during conference
To apply, please click the button below and fill out the application form. Deadline to apply is June 30th and you can expect a response from us by mid July.
Volunteer Before the Conference
Want to help make a difference before the conference and join an awesome team of like-minded academics and professionals? 
ABOUT THE POSITION
We're forming a large team of volunteers with many expertise and experiences. We require each volunteer to dedicate minimum 10 hours per week. If you can't commit to that but you're a working professional with expertise/experience in the specific areas listed below, please apply and we will review it on a case-by-case basis. 
What will you be doing?
The aim of this volunteering role is to organise the 5th edition of the Interdisciplinary Conference on Psychedelic Research (ICPR) which will take place in Haarlem (close to Amsterdam) between Sep 22-24, 2022. 
You will help us with your expertise and experiences so we can put together the best possible in-person conference dedicated to advancing psychedelic research and therapies. We believe that when people align their passion with a bigger purpose, we can change the world in a positive and meaningful way.
For this position, you will work closely together with the operations manager and executive director of OPEN Foundation and a rockstar team of dedicated volunteers who come from many disciplines, such as medicine, psychology, neuroscience, anthropology, philosophy, research, design, marketing, development, etc.
What are we looking for?
Volunteers who can commit "prior to" the conference days:
Operations & Project Management
Digital Marketing, Funnels and Ads

Website Design and Maintenance (WordPress)

Graphic Design and Illustrations

Promotion & Communication
Public Relations

Partnerships & Sponsorship 

Content Writing and Editing

Video Editing

Logistics 

Customer Care
To apply for the role, applicants must be sympathetic to the aims and objectives of OPEN Foundation and ideally have some experience and knowledge around psychedelics and mental health care. 
What difference will you make?
The OPEN Foundation provides events, education, community, and advocacy related to psychedelic research and therapies. By working together, we can ensure the safe, evidence-based, and beneficial use of psychedelics is integrated ethically and responsibly into science, healthcare, and society.
DETAILS
Job Type:
Part-time volunteer (minimum 10 hours per week unless you're a working professional with expertise/experience in the areas you're applying for)
Benefits:
Enjoy flexible schedule

Work from any location 

Get free event tickets 

Work with interesting and respectful team members on exciting projects

Make a difference in the future of psychedelic research and therapies

Expand the reach of a growing organisation in an exciting field
Education:
Experience:
Language:
English (required)

Dutch (preferred)
Work remotely:
Yes
B

ased in Amsterdam or the Netherlands (preferred
VOlunteer before conference
Thank you for your interest in joining the pre-conference OPEN team. To apply, please click the button below, fill out the application, and we look forward to having you onboard!